Cadbury Legends FC Taste The Action Promotion 2020 : cadburylegends.co.za
Organisation : Mondelez South Africa Proprietary Limited (cadburylegends.co.za)
Promotion Name : Cadbury Legends FC Taste The Action Promotion 2020
Applicable For : Residents of South Africa
Last Date : 31 October 2020
Website : https://cadbury.co.za/cadburylegends/
Cadbury FC Taste The Action Promotion
Buy a legend win a legend VIP experience. The choice is yours!
Related / Similar Post : Nivea SPAR 86 Days of Winning Competition 2020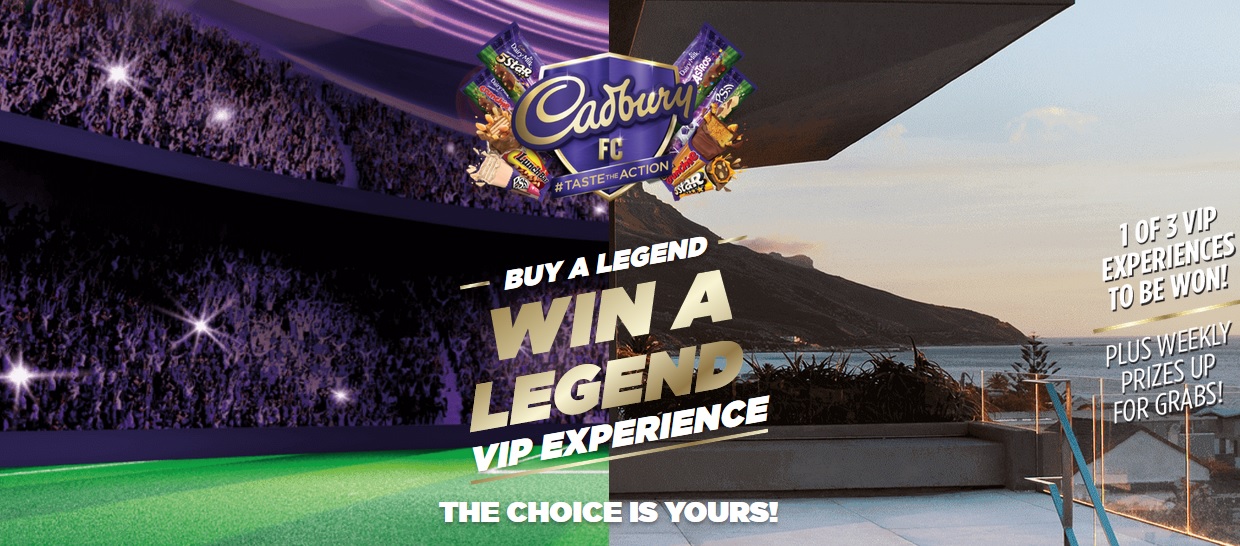 Stand a chance to score 1 of 3 legendary VIP experiences to the UK or Camps Bay plus other weekly prices
Promotion Period
The Promotion will run from the 1 September – 31 October 2020. No entries received after midnight on the 31 October 2020 will be accepted
Who May Enter?
All Participants in the Cadbury FC Taste The Action 2020 Promotion ("Participants") must, at the time of entering the Promotion
** be a natural person and be at least 18 (eighteen) years of age;
** be a citizen and legal resident of the Republic of South Africa;
** be in possession of a valid South African identity document, resident/work permit and/or driver's licence; and
** be residing or be present in South Africa for the duration of the Promotional Period and for the period during which the prize draws and the delivery or collection of the prize/s takes place.
Participation in the Promotion constitutes acceptance of these Terms and Conditions, which the Promoter reserves the right to amend, alter or add to at any time during the term of the Promotion.
How To Enter?
1. To qualify for the Promotion, each Participant must purchase any two of the qualifying individual large or mini bars or slabs listed below
Large Bars:
Lunch Bar 48g, Lunch Bar Dream 48g
P.S. Milk Chocolate 48g,
P.S. Caramilk 48g
5 Star 48,5g
Crunchie 40g
Mini Bars:
Lunch Bar 23g
P.S. Caramilk 19g
Slabs:
CADBURY DAIRY MILK CRUNCHIE 150g
CADBURY DAIRY MILK 5 STAR 150g
CADBURY DAIRY MILK ATROS 150g
CADBURY DAIRY MILK PS CARAMILK 150g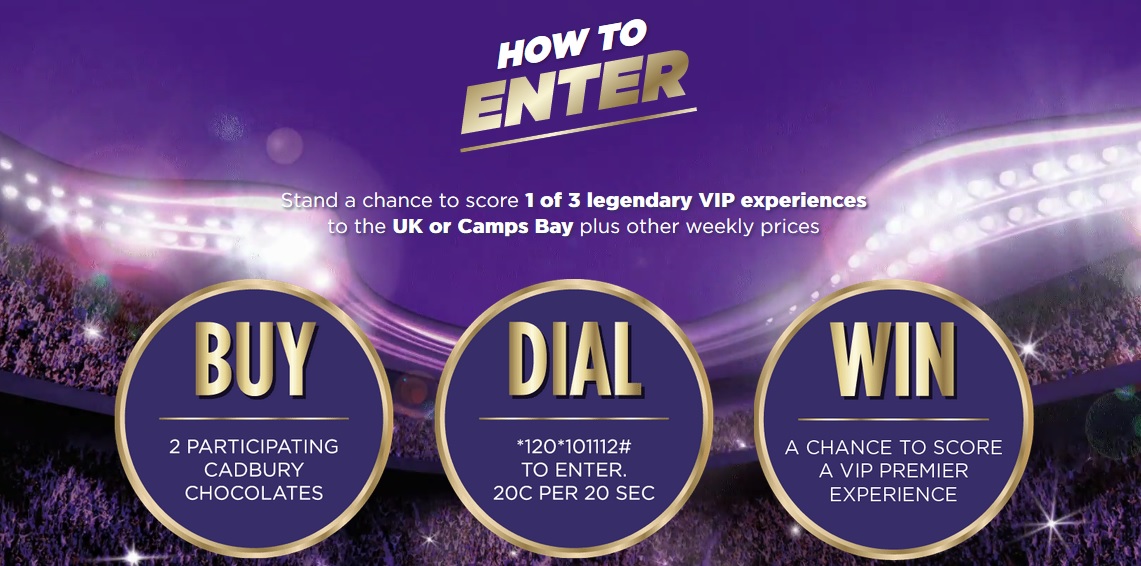 2. To stand a chance of winning any of the prizes, Participants must purchase any two of the participating products and follow the instructions below
3. Dial USSD number *120*101112# from a registered prepaid cell phone number that has been RICA'd and registered in the name of the participant.
4. Follow the text prompts to complete their entry. Hereinafter referred to as an "entry".
5. USSD entries costs 20c per 20 seconds. Free minutes do not apply. Incomplete entries may be billed by the participant's service provider.
6. If no unique code is found inside the wrapper of any of the participating products, entrants will be able to get a replacement code as long as the entrant can produce a till slip showing purchase of the participating products.
Prizes
The Promotion will afford participants a chance to receive ;
** 8 x R5000 cash prizes ("Cash Prize")
** 8 x Megamaster Gas Braai ("Physical Prize")
** 8 x PS 4 PRO + Game ("Physical Prize")
** 8 x VR Headsets ("Physical Prize")
** 8 x HD TV ("Physical Prize")
** 8 x Sound Bar ("Physical Prize")
** 4 x Iphone ("Physical Prize")
** 4 x MacBook Air ("Physical Prize")
** 4 x Apple Airpods ("Physical Prize")
** 43 435 x R5 random instant airtime prizes (daily) ("Airtime Prize")
** 4342 x R10 random instant airtime prizes (daily) ("Airtime Prize")
** 3 x winner and partner for a VIP "Money Can't Buy" experience including an EPL Game in the UK ("Trip Prize") (COVID-19 dependant) OR
** 3 x winner and 3 friends each for a VIP "Live Like a Legend" local Experience in South Africa ("Trip Prize") (COVID-19 dependant)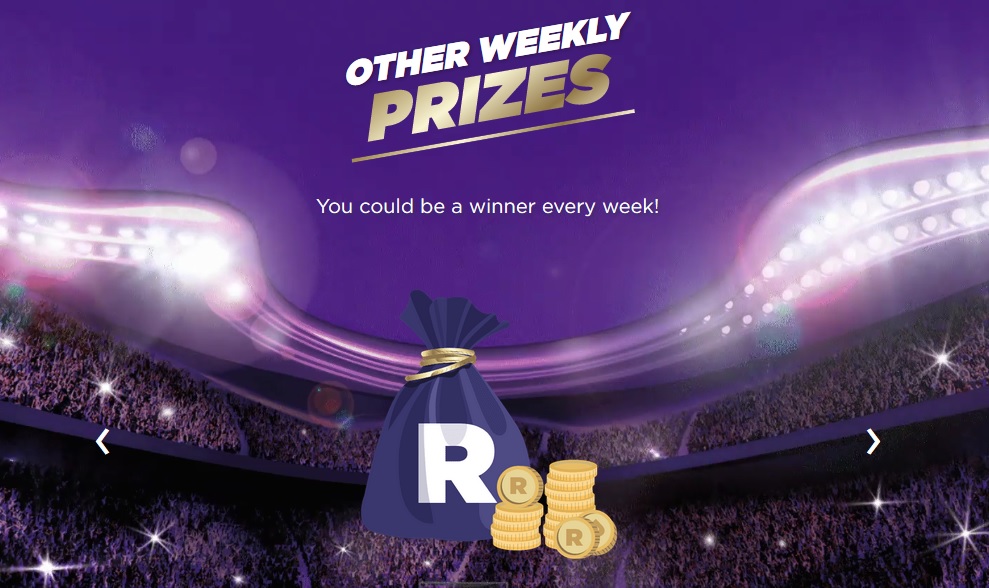 Awarding of Prizes
All prize winners will be determined by random automatic selection draw weekly within the Promotion Period. Provided that the grand prize draw will take place by no later than the 2 November 2020.